French title : "L'envers de l'éperon"
For a long time, Nicontina observed the two ants. The print of their tiny legs had delimited in the golden sand the circle of death where they faced each other, antennas against antennas. Nicontina fixed them of his unique eye. He waited for the fatal denouement. Finally the claws intertwined cruelly and the two fighters slid to the side.

To kill, to die! here is all the life!" Nicontina thought while raising her boot furnished with spurs to put an end to this duel. The murderous relentlessness of the ants answered, a derisory echo, to the violence of the world he had always known.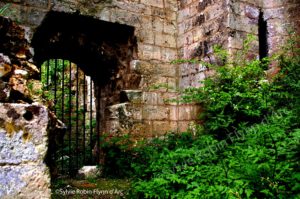 Nicontina, bodyguard of a large landowner, is charged by the latter to execute a man. Discovering in the course of the story that it is her own brother, Nicontina will have to face a delicate situation.
With his two characters, Michel embarks on a frantic chase in the heart of the Brazilian state of MINAS-GERAIS, where he lived for some time.
The characters will evolve in a universe mixing fantasy and reality, until they find themselves in a city abandoned by men in which Michel's green world has regained its rights.
Nicontina having given his word to his principal, will he limit himself to respecting the given word?
Unless he finds his salvation thanks to the hostile nature of Michel …
---
RECENT PUBLICATIONS :
– L'Envers de l'Eperon, Preface by J-François Merle, L'Arbre Vengeur, 2018, 221 p.
– "Le Cycle de la Montagne Morte de la Vie", Fleuve Noir, "Super-Poche", 1996, 704 p.
Publishers : L'Arbre Vengeur, Fleuve Noir Editions, La Table Ronde (Gallimard)
Novel published in French only
---
LITERARY CRITICISM :
"This fantastic story is told soberly in very simple language that adds to its grandeur. L'envers de l'éperon is one of the best books of the season." Jacques de Ricaumont, Le Figaro Littéraire
"This book is so powerful that it throws up terrible lightning bolts in the name of justice and charity, and also in the name of fraternity, which will not fail to light fires in souls." Jacques Chirac, Mairie de Paris
"We discover one of these books written for all and for nobody : so simple that it seizes, so ambiguous that it confuses, so sober that it embarrasses. There are nightmares that awaken and readings that revive: Coming from elsewhere, L'envers de l'éperon gives a glimpse of that All after which our world sighs." Jean-Jacques Lafaye, La revue des Deux Mondes
"A part of fantasy without excess, always at the borders of the plausible. And there is this poet, Michel Bernanos. To follow him when he becomes a novelist is to discover a fascinating Brazil, it is also to advance a little more in the most secret of our own destiny." Pierre-Robert Leclercq, Le Monde