Or the quest for life facing chaos
French title : "La Montagne morte de la vie"
---
I had just turned eighteen, when one night, after drinking, a friend's hand guided mine to sign a year's commitment on a galleon.
Thus began the adventure of a young ship's boy, struggling to find his place in the crew.
After facing various storms, the ship will end up stagnating for lack of wind, time literally seeming to stop during this moment. The crew suffers from starvation and the young ship's boy, supported by Toine the cook, will witness scenes of unprecedented cruelty, the men fighting each other to save their own skin.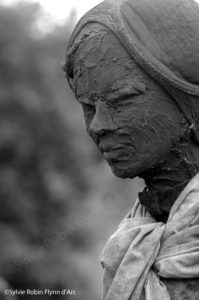 It's in this context that the galleon is sucked into another world, leaving Toine and the young ship's boy stranded on the edge of an island that paradoxically which includes as much life as death.
Trees bow down in front of a huge and terrifying mountain, death and desolation are omnipresent, nature in general seems to behave like a human being, while being totally hostile to them.
Who are these human beings? Will they be able to survive? And this blood-red mountain, what does it hide?
These are just a few of the questions we ask ourselves when reading The Dead Mountain of Life, as visitors hope to find deliverance on the other side.
To be read in conjunction with this article : "1942-1945: A Free Frenchman – The Free French Naval Forces
---
RECENT PUBLICATIONS :
– "La montagne morte de la vie : Suivi de Ils ont déchiré son image", preface by Juan Asensio, L'Arbre Vengeur, 2017, 219 p., (Bordeaux, France)
– "The Other Side of the Mountain" by Michael Bernanos in "The weird : A compendium of strange and dark stories", Jeff VanderMeer et Ann VanderMeer, translation by Gio Clairval, Tor Books, May 2012, 1152 p. (New-York, US)
– « The other side of the Mountain » by Mickael Bernanos in « The Weird, A compendium of Strange and Dark Stories », Jeff VanderMeer et Ann VanderMeer, translation by Gio Clairval, Corvus – Atlantic Books, Oct.2011, 1152 p. (London, England)
– "The Other Side of the Mountain", Michael Bernanos, translation by Elaine P.Halperin, Cherokee Publishing Company-GA, avril 2007, 116 p. (Atlanta, US)
– « Al Otro lado de la Montana » de Michel Bernanos, in « Estado de alarma : Antologia de relatos para un confinamiento », translation by José Maria Nebreda, Coll. El club diogenes, Ediciones Valdemar, 2021, 800 p. (Madrid, España)
---
TRADUCTIONS :
– England : The Other Side of the Mountain by Elaine P.Halperin
– United-States : The Other side of the Mountain by Gio Clairval
– Detschland : Terra infernalis by Erik Hauser
– Espana : Al Otro lado de la Montana by José Maria Nebreda
– Italia : La Montana Morta della Vita by Diana Artom
– Portugal : A Montanha Morta da Vida by Maria do Carmo Santos
– Bengali : পর্বতের ওপারে (The Other Side of the Mountain) by Abdar Rachid
---
---
LITERARY CRITICISM :
"The other side of the Mountain is one of those texts that fantasy lovers almost pass around like a precious treasure that should not be damaged." Hubert Prolongeau, 2017, Télérama
"Carried by rare and precious poetic language, this novel offers a story and visions that will follow you for much of your reading life!" Actualitte, 2017
"The other side of the Mountain brings to light Michel Bernanos' singular talent as a writer, the strength of his imagination." Jacques Baudou, 1996, Le Monde
"One of the masterpieces of French fantasy literature." Jean-Michel Royer, 1984, Lire
"This book has the authenticity of lived dreams. Until the end and, in its simple and brief form, with its dramatic tension, its sumptuous imagination it captivates, it returns." Jacqueline Piatier, 1967, Le Monde
"Everything in these pages shows that a deep truth exists and waits for us in the emotion. I see in it for my part a religion of the heart that gives possession of life and that opposes a fatal dissatisfaction where the hero finds himself master of himself only once defeated. In truth, Sisyphus is present in this book that I keep preciously close to me." Jacques Chirac, 1984, Mairie de Paris
"An extraordinary and frightening epic of two castaways on an unknown island where fright and beauty, adventure and metaphysics compete for the leading roles." Hervé de Saint-Hilaire, 1996, Le Figaro Littéraire
"The other side of the Mountain offers us both these outrages and this thirst for the summit. With in filigree the eternal questioning of the future of two castaways facing a hostile world. A brilliant style, a purity of language, a rare poetic breath. " Jean Aubert, Les chroniques littéraires, 1985, La gazette du Val d'Oise
"Michel Bernanos' The other side of the Mountain is an extraordinary work in its approach to nature and the environment." Jeff Vandermeer, Science Fiction Author, 2017, Pennsylvania, USA
"The editors (The Weird), boldly suggest that the most beautiful strange tale of the 1960s was a novel by Michel Bernanos called "The Other side of the Mountain," which they reprint in its entirety, newly translated by Gio Clairval. It is indeed a powerful, even mystical story." Book world, 2012, The Washington Post
"The other side of the Mountain is a dark and beautiful exploration of interior landscapes, the craters of the mind. Statement, style and symbol – glaze upon glaze upon glaze – combine to create disquieting art. Do not fold, staple or disembowel, but read it." John Leonard, 1969, New-York Times, USA
"Every so often a fable comes along which, by an interior magic, rises above the stock science fiction adventure story, asserts its own terms, and leans toward greatness. In the other side of the Mountain, Michel Bernanos, posthumously, has achieved this." 1969, Boston Globe, USA
« The book is a gesture of absolute pessimism, a richly imaginative argument for the folly of survival. Its economy and metaphors of subconscious fear are memorable. » Bruce Williamson, 1969, Irish Times
« The other side of the mountain provides psothumous proof that Bernanos, at the time of his death, was beginning to find a depth and penetration out of reach of the average novelist. » Howard Eatwell, 1969, The Sunday Mirror
"In the simplicity of a perfectly orchestrated story, the reader will find himself transfigured by the dream into the world in which we live with its tensions, its anxieties, its absurdity…" Publicacoes Europa-America, 1967, Portugal
"Michel Bernanos writes more like a painter than a philosopher. His fantasy has a visual and colorful reality of extreme strength. The sounds are also very important. The senses are dilated : as if under the influence of a mysterious drug, sounds and lights reach extremely high intensities, smells are unbearable, the contact with nature is extremely perceptible. In this book, published posthumously, Michel Bernanos reveals a new writer." Bompiani, 1970, Italy